Andalusia Personal Injury Lawyers
We want to help you get the compensation you deserve.

Personal Injury Attorneys Serving Andalusia, AL
The Andalusia Personal Injury Attorneys at Brock & Stout have decades of experience with Personal Injury Law. Andalusia is a wonderful place to live. But even in Andalusia, accidents happen. We understand that most accidents aren't criminally motivated. Some person just got careless and, before anybody knew it, you got hurt.
When that happens the law states that the person or persons owe you compensation for medical expenses, loss of income as well as your pain and suffering. Some accidents are small and the effects short-term. Some are not. A traffic accident or on-the-job injury or illness could alter your life permanently. If you find yourself in these unfortunate circumstances, you're going to have Personal Injury law questions. The local Personal Injury Attorneys at Brock & Stout are here to help you and your family.
We're here for you in a time of need.
Brock & Stout Attorneys at Law have years of experience navigating Personal Injury Law. Personal Injury compensation is covered primarily by state law, however, some cases are covered by federal law. That's why it's important to have a knowledgeable personal injury attorney by your side. At Brock & Stout, we work on a contingency basis. if we don't get you a settlement or jury award, you owe us nothing, not even case expenses.
If you've had an accident, you probably assumed your insurance company would be on your side. You're right, they should be! However, we've seen our fair share of legitimate claims being denied on fine-print technicalities. At Brock & Stout, we can help you avoid a similar situation. Our qualified Andalusia Personal Injury Attorneys would love to help.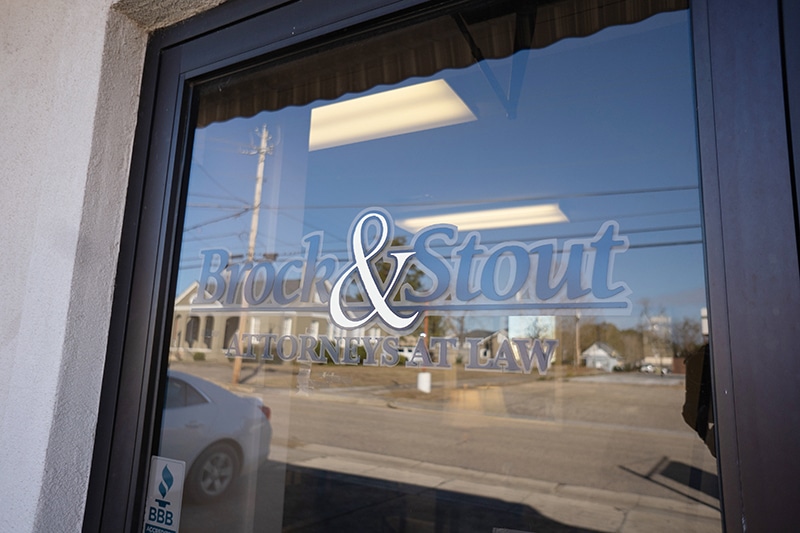 Types of Injury Claims We Handle
Our Andalusia Personal Injury Attorneys have experience in many types of Personal Injury cases. We understand that your Personal Injury case may be unique but here is a list of common cases we handle.
and more… Give us a call today at (334) 222-5600 if you don't see your specific type of Personal Injury case on this list. Our dedicated legal team can evaluate your situation and determine the best way to handle your claim.
A Video About our Personal Injury Practice
Andalusia's Experienced Personal Injury Attorneys
Brock & Stout Attorneys at Law has been handling Personal Injury cases in Andalusia, Alabama and the surrounding areas, for over 25 years. We know that the law is well-intentioned, but sometimes you need a compassionate, local attorney to assist you. We have been successful over the years because taking care of our clients is our top priority. We've built our practice on putting our client's needs first and acting with integrity. If you need excellent legal advice, contact Brock & Stout and we'll stand with you. Call (334) 222-5600.