Dothan Personal Injury Attorneys
We want to help you get the compensation you deserve.

Personal Injury Attorneys in Dothan, Alabama
Personal Injury Law covers a wide range of circumstances. The knowledgeable Personal Injury Attorneys at Brock & Stout can help you determine if your incident qualifies you for compensation. Personal injuries sustained in traffic accidents, dog attacks, workplace injuries, and other situations can impact your ability to work and earn income. By filing a personal injury claim, you can help recover some of the income you have lost due to your injury. This will allow you to continue to pay your bills on time and enjoy a stress-free life.
No matter how you sustained a personal injury, the experienced Personal Injury Attorneys at the Dothan, AL office of Brock & Stout are here to help you get the compensation you deserve. We'll help you seek the maximum financial award in your Personal Injury or case. You can rest assured that you will not incur any legal fees from our experienced team of Personal Injury Attorneys until you have received a jury award or financial settlement on your lawsuit or claim.
If you have recently sustained a personal injury due to an accident, negligence, or malicious intent, you could be facing a long road of both physical and mental recovery. This can impact your ability to work and earn the income you need to provide for yourself and your family. It can also result in costly medical expenses such as hospital and doctor bills, pharmaceutical costs, and rental or purchase of necessary medical equipment.
You deserve to receive fair and adequate compensation for your personal injury to help you maintain your quality of life. The dedicated Personal Injury Attorneys at Brock & Stout will provide you with the legal counsel, and guidance you need to navigate the legal process so that you can obtain the financial settlement you need and deserve. If you live in Dothan, AL or surrounding areas and have recently been in an accident or sustained a personal injury, the team at Brock & Stout is here to help you!
Experienced Legal Assistance for Your Case
The law offices of Brock & Stout have been handling personal injury cases in Alabama for over 25 years. We work hard to help you with your personal injury case, so you can go back to living life on your own terms.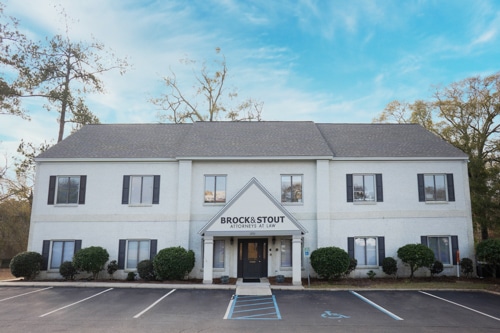 Types of Injury Claims We Handle
Our Dothan Personal Injury Attorneys have the experience you need to help guide you through your case. We have successfully helped many just like you get the compensation they deserve for common personal injury cases.
and more… Our experience extends beyond this list and covers many other personal injury cases. If you don't see your type of case on this list, it doesn't mean we don't handle it. Give us a call and we'll evaluate your Personal Injury case today.
A Video About our Personal Injury Practice
Our Personal Injury Attorneys in Dothan are By Your Side!

At Brock & Stout, we make it our mission to provide our Dothan clients with compassion, courtesy, and respect. We work together with you every step of the way to help you win your personal injury case. With decades of combined experience in Personal Injury Law, our team of skilled legal professionals knows how to navigate every obstacle to get you the results you need. We practice many aspects of Personal Injury Law, including traffic accidents, slip and fall, workplace injuries, wrongful death, among many others.
Contact our Dothan, AL Personal Injury Attorneys today! Call us at (334) 671-5555 or simply fill out our online form to schedule your free initial consultation. Don't let your injury keep you from living the life you intended. Call Brock & Stout today for help with filing your personal injury claim. We're ready to help you with the legal advice you need to receive the financial settlement you deserve!