Enterprise Personal Injury Attorneys
We want to help you get the compensation you deserve.

Personal Injury Attorneys Serving Enterprise, AL
Personal injury includes dog attacks (over 4.5 million per year, mostly to children); wrongful deaths (over 130,000); nursing home abuse (about 1 in 10 residents); workplace accidents (1 every 7 seconds); defective products (nearly 100,000); pharmaceutical claims (about 125,000 deaths plus injuries); slip-n-fall injuries (more than 1 million annually). In February 2019, there were over 20,000 civil actions filed in federal courts alone.
When others cause you any harm, that person or business owes you compensation. Brock & Stout's personal injury attorneys in Enterprise, Alabama, are here to help. Our firm has the training and experience to help you get the compensation you need to get your life together again.
Experienced Legal Assistance for Your Case
Our goal is fair compensation for your personal injury. Compensation means all the money you need to cover the costs of all medical treatment from the ambulance ride through every day of physical therapy until you are back to functioning at 100 percent. This will include all loss of income during recovery, all funeral expenses should the worst occur, repair or replacement of all damaged property, plus other verifiable costs. Compensation also means additional costs that cannot be precisely calculated — pain and suffering, loss of companionship or mentoring should a spouse/parent be killed, and quality of life in cases of permanent disability.
If the case is individual – for example, you are injured in Alabama by another Alabama resident, the negotiations will be reasonably straightforward and it's unlikely that you'll ever see a courtroom. If you become part of a large lawsuit with multiple defendants and plaintiffs, it will require far more time and resources to bring to a conclusion. If the injury was attached to some crime, additional challenges arise.
The responsible party will do everything the law allows to defend themselves, just as you would in their place. You, however, are not in their place. The case for their defense must be met with a better case or you might receive nothing, and that means you could lose everything.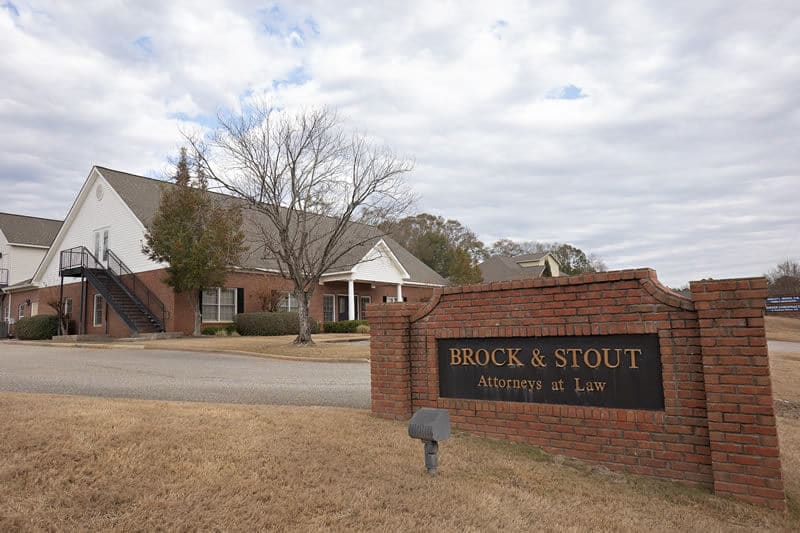 Types of Injury Claims We Handle
Our personal injury attorneys have seen a wide variety of cases. The list below shows some of the most common personal injury cases our law firm has handled.
and more… If you don't see a specific type of case on this list, that doesn't mean we can't handle it. Call us today (334) 393-4357 to explain your situation and we'll evaluate your personal injury case.
A Video About our Personal Injury Practice
Our Personal Injury Attorneys in Enterprise are Ready to Fight for You!
The attorneys at Brock & Stout will assist you in getting the compensation you deserve for your injuries or losses. Working with this team of personal injury lawyers means no legal fees until we obtain a financial settlement or jury award on your personal injury claim or lawsuit. If you need an attorney in or near Enterprise, AL, contact our attorneys today at (334) 393-4357, or use our online contact form and we'll set up your free initial consultation.