Tuscaloosa Personal Injury Attorneys
We want to help you get the compensation you deserve.

Personal Injury Lawyers in Tuscaloosa, Alabama
At Brock & Stout – Tuscaloosa, our knowledgeable Personal Injury Attorneys can help you determine if a personal injury you've received entitles you to compensation. Personal Injury Law covers a wide range of circumstances and can be complicated. You can get the help you need from a local attorney you can trust. The Personal Injury legal team at our Tuscaloosa office have the experience you need to get the compensation you deserve.
You may have sustained a Personal Injury from a car accident, work-place incident, dog attack or through a variety of other circumstances. Personal Injuries can drastically change the way you live. They can impact your ability to work, pay bills and provide for your family. When you're recovering from a Personal Injury, you don't need extra stress. By filing a Personal Injury claim, you may be able to recover some of your lost income, relieving your financial stress.
We're here for you in a time of need.
Regardless of how you sustained your Personal Injury, the experienced Personal Injury Attorneys at Brock & Stout – Tuscaloosa can help you get the compensation you need and deserve. When you receive compensation, you can pay bills on time, handle unexpected (and sometimes long-term) medical expenses, and continue to live your normal life. We can help you seek a favorable financial settlement in your case so that you can heal from your personal injury with as little financial stress as possible. We know you need real help now so we don't take any payments from you until you receive your settlement.
You deserve to receive fair and adequate compensation for your Personal Injury to help you maintain your quality of life. The law offices of Brock & Stout have been handling Personal Injury cases in Alabama for over 25 years. We work diligently to help you with your Personal Injury case, so you can go back to living life on your own terms. The dedicated Personal Injury Attorneys at Brock & Stout will provide you with legal counsel and guidance to navigate filing your Personal Injury claim so that you can obtain the financial settlement you need and deserve. If you live in Tuscaloosa, AL, or surrounding areas, and have recently been in an accident or sustained a Personal Injury, the team at Brock & Stout is here to help you!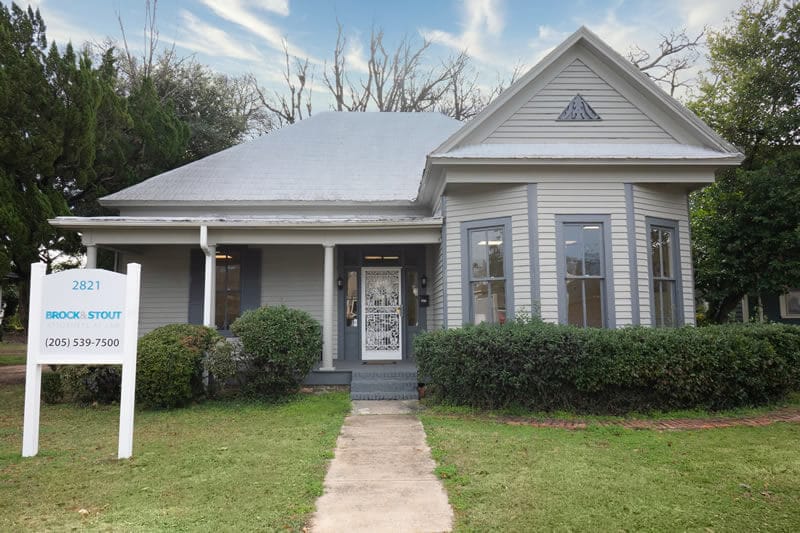 Types of Injury Claims We Handle
Our Tuscaloosa Personal Injury Attorneys have the experience you need to help guide you through your Personal Injury case. We have successfully helped many just like you get the compensation they deserve for common Personal Injury cases.
and more… Our experience extends beyond this list and covers many other Personal Injury cases. If you don't see your type of case on this list, it doesn't mean we don't handle it. Give us a call at (205) 539-7500 and we'll evaluate the circumstances of your Personal Injury case today.
A Video About our Personal Injury Practice
Our Personal Injury Attorneys in Tuscaloosa are By Your Side!

Brock & Stout Attorneys at Law is a community-based law firm founded on the principle of putting our clients' needs first. We have eight offices across the state of Alabama that are committed to providing every client with compassionate and competent legal services. We'll treat your Personal Injury case with the courtesy and respect it deserves.
Our Personal Injury team in Tuscaloosa is dedicated to helping you every step of the way. The Tuscaloosa office is staffed with skilled Personal Injury Attorneys capable of navigating you through the process of being awarded a settlement. We practice many aspects of Personal Injury Law, including traffic accidents, slip and falls, workplace injuries, wrongful deaths, and many others.
Our Tuscaloosa Attorneys have the legal advice needed to guide you through your Personal Injury case. Don't let your personal injury prevent you from leading a full life! Get the assistance you need today by calling us at (205) 539-7500. Our Personal Injury Attorneys are ready and waiting to help you and your family.