Opelika Personal Injury Attorneys
We want to help you get the compensation you deserve.

Personal Injury Lawyers in Opelika, Alabama
The Personal Injury Attorneys of Brock & Stout understand that you're not to blame for your personal injury. Accidents happen — even in a wonderful town like Opelika — and, when someone else is at fault, that person or those persons owe you. The law is on your side. The party at fault is responsible for covering medical expenses, loss of income through lost work time as well as compensation for your pain and suffering. Whether it's a traffic accident, dog attack, wrongful death, on-the-job injury, or illness, someone else's negligence shouldn't ruin your life. If you've found yourself in these circumstances, you're likely to have legal questions about Personal Injury Law. Fortunately, the knowledgeable legal team at Brock & Stout is here to help.
We Would Welcome the Opportunity to Help
The Personal Injury Attorneys of the Brock & Stout Opelika office understand the circumstances surrounding Personal Injury in Alabama. We are committed to providing you and your family with compassionate and personalized legal services. Our attorneys and our staff are determined to get you financially stable through this time of need.
Personal Injury Law varies from state to state; sometimes, even from county to county or city to city. In some cases, such as product liability or pharmaceutical liability, state and federal law may come into play. Understandably, you need someone on your side who is familiar with the ins and outs of all applicable laws pertaining to your case. That's why it's a solid decision to hire a local Opelika Personal Injury Attorney.
You may also be dealing with insurance companies. Your insurance provider should be on your side. However, your legitimate claim could be denied on fine-print technicalities. The other party's insurance company could use every trick they know to deny your claim. They could even ignore you – in hopes you'll just accept whatever minimal offer they make.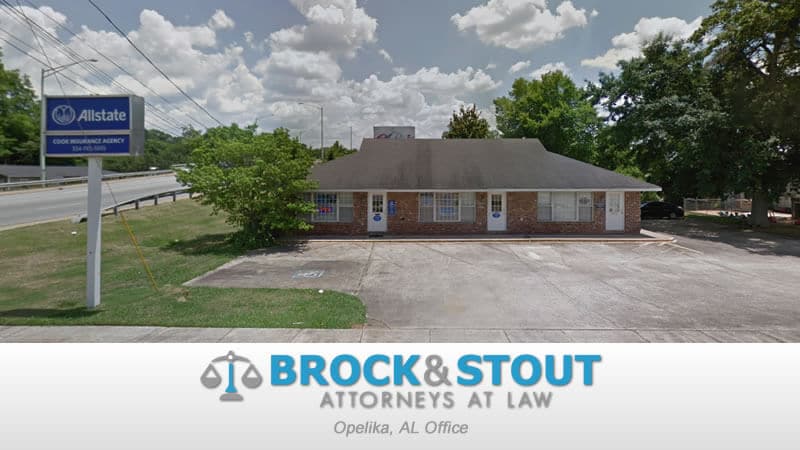 Types of Injury Claims We Handle
Our Opelika Personal Injury Attorneys are experienced in many types of Personal Injury cases. Because of this experience, we know your Personal Injury case may be unique. Below is a list of common cases we handle.
and more… If you don't see your specific type of case on this list, we can still help you! Call us today (334) 759-3328 to explain your situation and our capable legal team will evaluate your Personal Injury case.
A Video About our Personal Injury Practice
Experienced Personal Injury Attorneys in Opelika
The Personal Injury Attorneys at Brock & Stout have been handling Personal Injury in Opelika, Alabama for over 23 years. Businesses last that long in a community by giving quality service and earning their clients' trust. The other parties involved in your Personal Injury claim may seem to be well-intentioned but don't truly have your well-being as their focus. Our legal team is dedicated to looking out for your best interests and is motivated to help you get your life back on solid ground.
We built our practice on integrity and putting our client's needs first so we understand exactly how to approach your case. We focus our practice on specific areas where we have the most experience, including Personal Injury Law. In Opelika, as well as the other towns we serve in Alabama, our Personal Injury attorneys prioritize your case. If negligence has put your back against the wall, you don't have to stand alone. Contact Brock & Stout, we'll stand with you. Call our office today at (334) 759-3328.
At Brock & Stout, we work on a contingency basis. This means we only take payment if you receive your settlement. If we don't get you a settlement offer, you owe us nothing, not even case expenses. We want that clearly understood upfront for three reasons: First, it's in our best interest to look after your best interest. Second, we are confident that we'll get you the compensation you deserve. Third, we have a track record of success that entirely justifies our confidence. We pride ourselves on putting our clients first and that is what has made us so successful.